Regularly scheduled service and maintenance is the number one way to get the greatest value and enjoyment from your vehicle. At Jacksons of Enid, we understand that some drivers prefer to handle their own maintenance, that's why we provide you the ability to purchase genuine MOPAR parts online.
If you're a driver in Enid, Ponca, and North Enid in search of genuine MOPAR parts, rely on our Parts Center to be able to provide the highest quality parts and components for your specific vehicle.
Why Use Genuine MOPAR Parts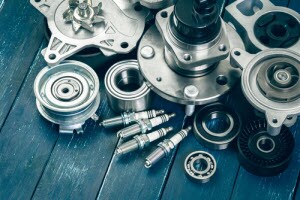 There exist a number of potential issues when using aftermarket parts from a non-certified independent shop including:Using only the highest quality MOPAR parts will ensure you get the best performance over the life of your vehicle and can save you money over the long run.  Whether you need something as simple as new spark plugs or a major engine component, our team can locate the exact parts you need and have you quickly back on the road.  Make sure to view our coupons for MOPAR parts and services to ensure you get the best deal.
Product Quality. Aftermarket parts sometimes are made with inferior materials and aren't designed to meet the exact specifications of your vehicle. This often results in the parts breaking down or not fitting properly which can result in damage to other areas of your vehicle.
Compatibility Issues. Your vehicle's operating system and electronics use special coding to transmit information and relay messages to the driver. Using genuine MOPAR parts guarantees that your vehicle's system is fully compatible and working to the highest standard.
Warranty Issues. Depending on the part, using aftermarket products can sometimes affect any existing warranty should a part or component breakdown.
Order Online: MOPAR Parts
If you know exactly what you need, you can easily order all parts and accessories online.  If you aren't sure which parts or accessories to order for your vehicle, our friendly and knowledgeable Parts Department staff is here to help. They can offer you the right advice on any part you need to replace.
In some instances, a repair job might be too large or complicated to handle on your own. In that instance, our certified technicians are more than happy to professionally install any part or component in our state-of-the-art service center. So, if you ever ask yourself, "Where can I find quality auto repair near me?" Look no further than Jacksons of Enid.
Genuine MOPAR Parts and Dependable Auto Repair near Me
If you're a driver in Enid, Ponca, or North Enid and need to order genuine MOPAR parts, consider Jacksons of Enid your main resource. Chat with us or order your parts online today!