Do you know what the process of tire rotation entails? Do you know how often you should get them rotated? Do you know why this piece of automotive maintenance is so important?
Our Jacksons of Enid team has compiled the following information to make sure our fellow drivers in Enid, Ponca, and North Enid know the answers to these questions. This is because we're dedicated to providing our neighbors with current vital information to help them keep their vehicles running safely and performing in accordance with the highest standards.
Read on to learn about tire rotations. If you have any questions, feel free to contact us or stop by. We're always willing to talk shop.
The Why, When, and How of Tire Rotations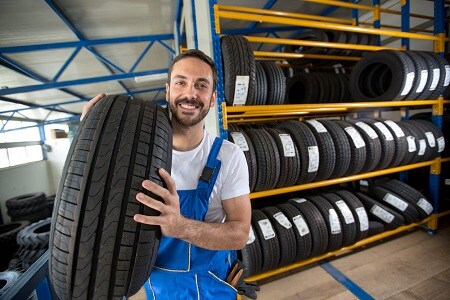 When your tires are rotated, it simply means that they are moved from wheel to wheel on your vehicle. This is done to make sure your tires don't wear down unevenly. Without rotating, your tires' lifespans would be reduced considerably. To promote long life and full performance potential, your tires should be rotated about every six months or so.  Our service center professionals can provide your tire rotation fast and efficiently.
The Dangers of Worn Tires
If the wear on your tires were to go unchecked, it could result in some or all of the following:
Overheating: Overheating and the resulting breaking down happens when tire grooves aren't deep enough to hold any cool air.
Weakening: Worn down thin tires are prone to punctures from sharp objects on the road and can cause blowouts. 
Vulnerability: Worn tires with reduced tread can result in hydroplaning.
Keep an Eye on Your Tires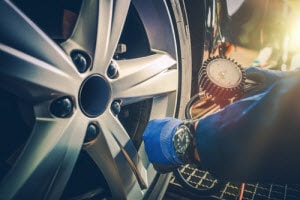 In between tire rotations, it's always wise to take a moment from time to time to check the conditions of your tires. Below is a list of things to keep in mind and issues to look out for while you're looking your tires over:
Air pressure: Having the correct amount of air pressure in your tires is vital to proper and safe tire performance. If your tires have too much or not enough air in them, they will wear down quicker than they should. This wear and tear will show itself unevenly on the tires.

If they're overinflated, there will be excessive wear in the middle of the tire. If your tires are under inflated, the wear will be exhibited on the outer edges. Check your owner's manual for the recommended air pressure for your tires.
Swelling or cracking. If you see these telltale signs that one or more of your tires have worn down too far, have them examined immediately.
Separating. If the tread is pulling away from the rest of the tire, the tire needs to be replaced.
Remember to Have Your Tires Rotated Regularly
If you witness any of the signs of excessive tire wear mentioned above or its simply tire to have your tires rotated, Enid, Ponca, and North Enid drivers can contact our service center here at Jacksons of Enid to schedule a service appointment today.